Being able to work from anywhere in the world is an amazing gift.
Once upon a time, it might have seemed an impossible dream – to wake up in southern Spain to daily blue skies and sunshine. Starting with a swim in the pool, followed by coffee and fresh pastries from your local café, before heading to work in your own home office, filled with natural light and all the comforts that working from home allows you to enjoy.
Then came the pandemic, and remote working rapidly became the norm.
As the world started to emerge and get back to normal, Spain threw out a teaser in January 2022 to anyone fed up with the monotony of nine-to-five or working from home wrapped in three jumpers with the heating on full blast for six months!
Finally, in November 2022, as part of the new Startup Act, which aims to attract entrepreneurship and bolster the country's tech scene, the Spanish Parliament introduced a new visa category allowing digital nomads to work in Spain for companies located abroad.
Now, it doesn't have to be an impossible dream.
You can swap those long hours, monotony, commuting, and stress for a healthier work-life balance, while enjoying an enviable lifestyle during your free time. The only challenge is deciding where exactly in Spain to go!
Here we take a look at La Manga Club – a popular destination located in the region of Murcia – which is proving a great location for digital nomads. It offers the best office views imaginable, not to mention a wide range of amenities and activities for that all-important after work down time.
So, let's take a closer look at seven reasons why you should consider remote working in Spain – and why 2023 is a great year to invest in a second home at the world-famous La Manga Club.
1. Mediterranean climate
La Manga Club is a luxury residential resort sitting on a hilltop overlooking the sparkling Mediterranean sea in the region of Murcia, southeast Spain.
This stunning area – bordered by the Mar Menor and Calblanque Regional Park – enjoys over 300 days of sunshine a year, with daily temperatures rarely dipping below 18 degrees.
Mild winters and warm summers make it an ideal location for working and living year-round.
2. Great internet connection
One of the main requirements for digital nomads is high-speed internet access, which La Manga Club provides throughout the resort.
In addition, several fibre optics broadband providers offer a faster and more reliable connection than standard broadband.
Spain also boasts excellent 4G coverage, even across many of its rural areas, and some of the highest Wi-Fi speeds in Europe (much higher than the UK!).
3. Networking opportunities
There is an incredible sense of community at La Manga Club, which has grown over the years into a lively, supportive, and professional hub of expats from an eclectic mix of nationalities.
As well as established residents, there's a regular flow of property owners with second homes, entrepreneurs using the 5-star hotel and facilities, and a growing number of digital nomads that have already decided to make their temporary homes in these luxurious surroundings.
There is also ample opportunity to collaborate and network through the extensive range of sports and social opportunities La Manga Club has to offer.
4. Affordable properties
Property in Spain remains very affordable compared with other countries, especially outside the big cities.
Our selection of properties at La Manga Club provides choices for those who want to invest in a second property, with options available for all budgets.
Here at Micasamo, it's our job to ensure you get the property you want to suit your needs, whether that's a modern apartment, a luxury villa, or somewhere suitable for the whole family.
5. A fantastic work-life balance
Once at La Manga Club, you can expect a high quality of life outside working hours due to the incredible range of facilities and amenities available, all within easy reach of your accommodation.
When you're ready to turn off your phone and step away from the laptop for an hour or so – or an entire weekend – there are endless ways to relax, unwind and enjoy that perfect work-life balance.
At La Manga Club, you can take your pick from year-round tennis, football, rugby, cricket, paddle tennis, swimming, cycling, hiking, mountain biking, horseback riding, and more.
In addition, the warm, shallow waters of the Mar Menor – just a short drive away – offer plenty of opportunities for sailing, canoeing, jet skiing, paddle boarding, kite surfing, or swimming and paddling.
Of course, for some, the lure of the golf course is ever present for after-work relaxation and at weekends – no waterproofs or golf brollies required!
With three 18-hole championship courses to choose from, less than two minutes from your home, there's no better place to exercise, blow away business cobwebs, make friends, socialise, and network.
Another perk, just a 10-15 minute drive from your home office at La Manga Club, are the spectacular sandy beaches of the Costa Cálida – stretching for 250 km.
There is also access for La Manga Club residents and visitors to La Cala, a small secluded cove, where you can enjoy soaking up the sun while enjoying the spectacular scenery in peaceful surroundings. There is a beach bar and sun loungers with umbrellas are available for hire.
What better way to celebrate the end of another productive week working in the sunshine, than enjoying tapas and signature cocktails while taking in stunning views of the Mediterranean sea.
There are over 20 restaurants and bars to choose from at La Manga Club resort, from 5-star dining to quick bar snacks and everything in between.
When your working day is over, there's no better way to recharge your batteries than over an ice-cold beer at 37 Spikes & Sports Bar with panoramic views of the North Course. If you can't be parted from your laptop, there is free Wi-Fi available in most bars.
And for those evenings when you decide that life's too short to cook, you can choose from a superb range of restaurants and bars offering Mediterranean, Southeast Asian, Japanese, Italian, burgers, seafood, and more – all within walking distance.
Supermarkets and other essential amenities
There are several smaller supermarkets around La Manga Club resort, making it easy to stock up on a good selection of groceries.
Larger supermarkets can be found approximately 10-minutes drive away, which also offer online shopping deliveries to your door.
In addition, you'll find pharmacies, banks, hairdressers, a post office, car rental, and many smaller shops and boutiques – all on your doorstep.
There is a doctor's surgery located at the Medical Centre in Las Sabinas, where their daily opening hours are displayed. However, as a resident of La Manga Club, a call to security will ensure you receive assistance.
The emergency number in Spain is 112, where you can request an English speaker.
For dental care, there is a dental surgery in the nearby village of Los Belones, offering various services for all your dental needs.
6. Easy, affordable travel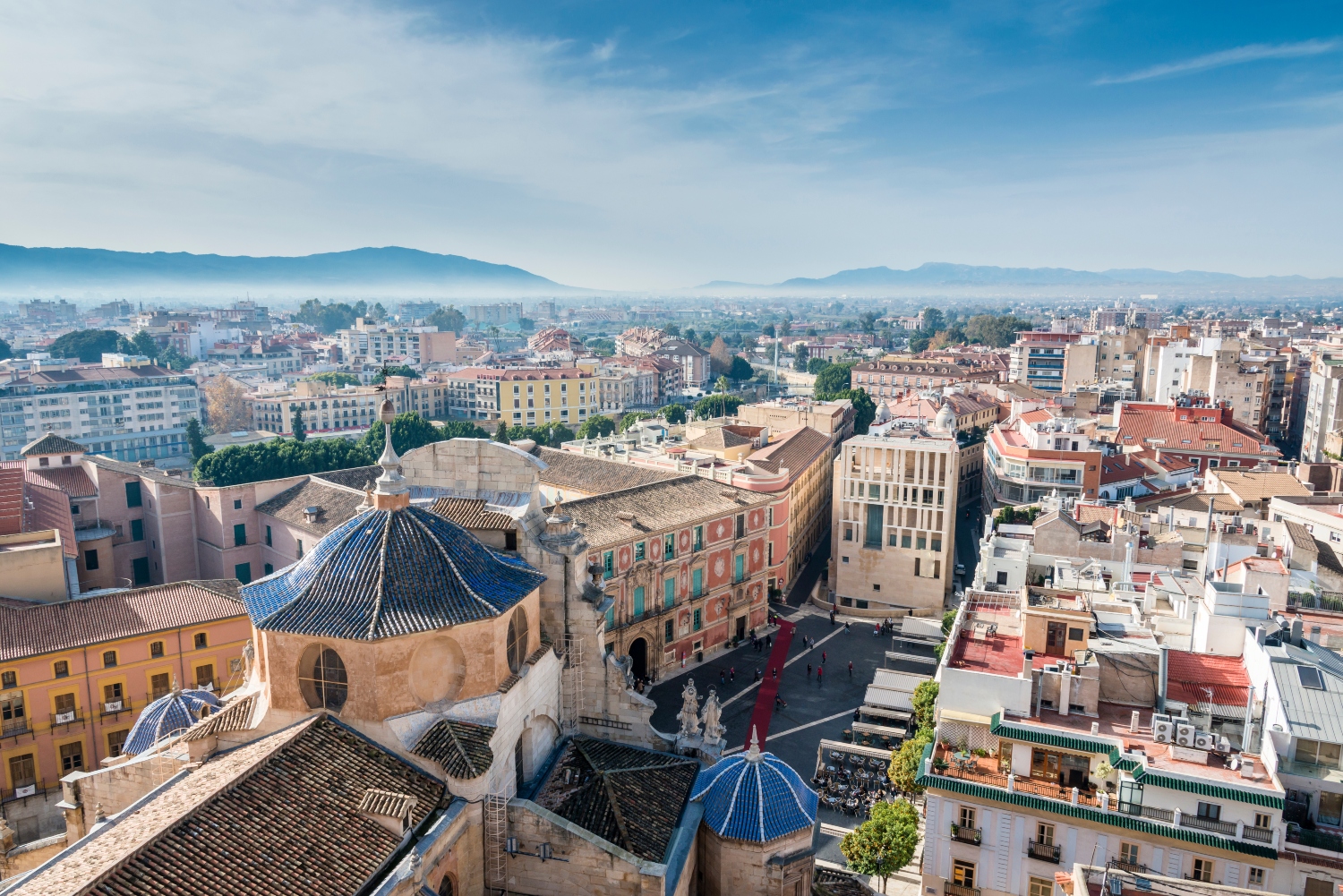 Since you became a digital nomad to travel, it's likely you'll want to truly experience all that this beautiful part of Spain has to offer.
La Manga Club has a well-developed infrastructure with good roads, public transport links, and plenty of dedicated parking. This makes it easy to get around and access nearby towns and cities.
The resort is also enviably close to two main airports for those needing to travel regularly between Spain and home. The closest is Murcia International Airport (known as Murcia-Corvera), just 30 minutes away by car, while Alicante airport is a 75-minute drive.
Travelling around the Murcia region
There is something incredible to be seen in every direction when you're working remotely from this part of Spain. With a little planning, embracing this wonderful micro-climate while working, resting, and playing in equal measure is possible.
When you leave your luxurious playground set in 1400 acres of lush, rolling countryside and go further afield and explore, you will find a natural coastline unspoiled by tourist development.
As well as small seaside towns and pretty Spanish villages, the following are some places worth mentioning (there are many more)!
Calblanque National Park is the least developed area, which is located on the southeastern tip of the region close to La Manga.
Cartagena is a Spanish port city rich in naval history but is not a typical Spanish seaside destination. However, Cartagena is a good choice for a day trip offering a taste of Spanish city life outside the main tourist zone.
Murcia City is the region's capital and the 7th largest city in Spain. So if you want to enjoy stunning architecture, culture and authentic Spain, it's the place to go.
7. Safety and security
You've swapped your home and all that you know as a place of safety for somewhere entirely new and different. The one thing you want to be sure of, apart from reliable internet, is safety – especially if you are female and travelling alone.
You also want to ensure your equipment and belongings are safe when you are out and about.
La Manga Club offers the security of a gated complex with 24-hour manned security and regular patrols around the resort. Regular checks are made; additionally, for added peace of mind, there is 24-hour CCTV covering various areas.
As the owners of Micasamo, we choose to live and work here and can vouch that it is a safe place to live and work.
Work from wherever you choose: La Manga Club, Spain
It's an exciting time to live in a world where you can work from pretty much wherever you choose.
As already mentioned, as business owners with a young family, we've already chosen to live and work here at La Manga Club, having worked in the UK and various other countries throughout our combined careers.
We can help you make your dream come true.
If you like the sound of living and working in the sun with the new digital nomad visa, why not start your search for your perfect home now?
At Micasamo, we provide a first-class end-to-end service and appreciate the need for trust and transparency, which is why we embrace video tours and verified testimonials to enhance the safety and security of your experience. For total peace of mind, we also have a first-class after-sales service so you can enjoy your new home from the minute you move in.
We offer a free consultation with legal advisors, financial advisors, residency advisors, relocation advice, and property consultancy to establish your right fit property.
Get in touch with us with your requirements, and we'll help you find the home of your dreams for a new life in Spain.